All United Together for Community Building, AUCB

La rareté, la pauvreté, la vulnérabilité et la violence
Dans la perspective du nexus conflit- construction, consolidation et maintien de la Paix. Read it Here
DRC: Fidèle Lumeya's plea for restorative justice, the antithesis of Western justice -> Read the Article Here
RAM tax: "The 25 million USD collected can be used for Universal Health Coverage" (Professor Fidèle Lumeya) -> Read the Article Here
DRC Awareness and Fundraising Tour 2022 –
Will you have us speak – click here for more information.
Read our September 2021 Newsletter HERE for current updates and news.
Please help support our ministry. As a book author and co author and also artist musician, I sell my books and CDs on amazon. Click Here for a list of books.
---
Partners needed for our project 'Safe and Healthy school environments'.

>View the project here<
TUBA is offering to Malela village a multipurpose hall. Students, farmers and others will use this hall for multiple program.

Your Financial help is needed. > More information.
---
Vision, Mission, Identity, Our Work
Our Vision
Helping families to end hunger through their own efforts/work.

Our Mission
From Farm to Table:
Acquiring seeds/grains, growing food, producing marketable products, ending hunger, fighting malnutrition, and creating jobs.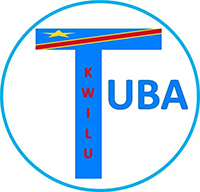 Our Identity
All United for Community Building, AUCB is a family owned mid size enterprise partnering with union of 40 farmers based in Kikwit, Province of Kwilu in RD Congo.

Our work
Peacebuilding and Trauma Resilience;
Agriculture, Animal Husbandry and Fisheries;
Community Health Care;
Water Sanitation and Hygiene, WASH.