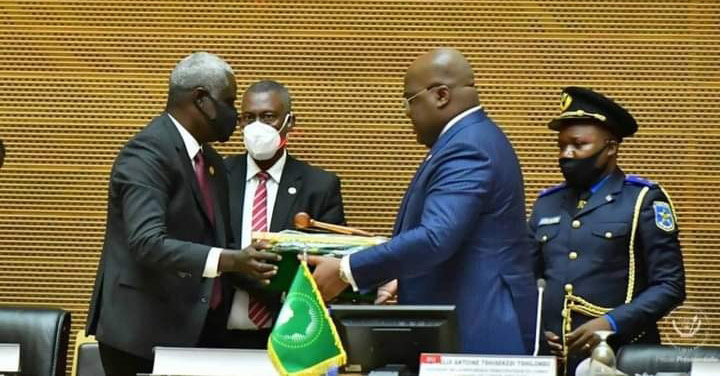 Collective Security and Individual Liberty the New African Union Challenges and Opportunities.
African Union under the DRCongo leadership in 2021. 
As of today, February 6, 2021, two years after coming to power in Congo (Dec 2018), President Felix Tshisekedi will lead the African Union. 
This historic event is happening after 25 years of DRC's absence at the top position of chairmanship of this continental organization. 
There are challenges to face, and there are also opportunities to be realized. Among the greatest challenges is the growing number of skilled, intelligent, creative youths living in a state of hopelessness, homelessness, and helplessness. 
The Information Technology Revolution will create the greatest opportunity to meet the challenge. By using satellite imaging technology to identify and track terrorists and their organizations in regions throughout Africa–including the Eastern Congo, the horn of Africa, West Africa, and the Sahel—skilled youths will find jobs, homes, opportunity, and purpose.
Smartphones have the capacity to allow us to access data captured from outer space, which are then analyzed and processed in real time. These same satellite technologies can support sustainable development by providing us with much-needed data on upcoming rainfalls and temperature variations, as well as land degradation, illegal resource extraction, illegal activity, epidemiology, and crop yields. This data also helps development actors and governments make informed decisions about policies and programming and use their resources more efficiently. Satellite-based telecommunications can assist emergency teams during disaster response, military and police of the regions facing gang crime and terroristic threat, and help track access to health and education facilities.
Funding will target entrepreneurs—skilled African youth, both male and female—interested in creating jobs and markets in the areas of developing and manufacturing satellites, their components, and applications; satellite system wiring and installation; computer engineering to coordinate, monitor, and collect satellite data; telecommunications operations; troubleshooting technicians; system performance monitoring and signal testing; fiber optics technology; and much more. 
Development will encourage African youth to pursue trade and educational opportunities, while advancing the security and success of their particular countries. Crime, terrorism, and extremism will decrease as ingenuity mushrooms. Desperation and despair will be replaced with hope as a plan is actualized.
gs.